JAM NOTES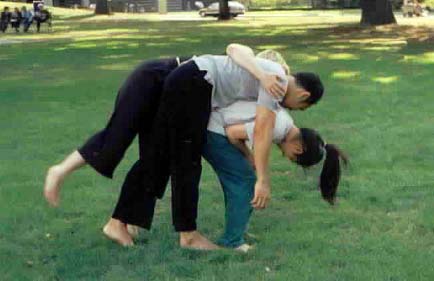 Fall into Fall 2000

Sept.17, 2000
I was up at 5 AM this morning and saw Orion blazing in the sky
the harginger of FALL
this afternoon,
Wade Park Oval, the first hint of
yellow in the treetops.
Leaves soon will FALL
SUN WIND GRAVITY
an insect that looks like a thorn
ants, bees, foot torturing acorns under the trees
supple field of grass, soft
the good earth supporting
me in the middle
pushing down
pushing up
flying Colleen in the sky
where she dances with the barefoot wind
-KaroL
---
Sept 10, 2000
Dancing in a light rain, we welcomed autumn to the steamy end of Cleveland's summer. Although damp, a half dozen people attended the return of Fall into Fall.
Leaning, counterbalancing and feeling our bones, we worked our weights against and with each other above the damp grass. Finally, however, nature released her rain into gravity, and we had to end the session early.
---
---
Jam Notes from the New Millennium
A body in motion tends to stay in motion unless acted upon by an outside force.

A body at rest tends to stay at rest unless acted upon by an outside force.
Two bodies in motion tend to meet and dance together.
-KaroL
---
This is life|
This is what we bring in with us
and make right now
What happened durring the
week, today, the minute before
we walked in the door
and started walking around.
I see a dance
a 55minute piece before my eyes
based on split second decisions
catch fall throw or do nothing
I see recurring themes motifs lifts
There it is. the potential
in that empty space
-Marissa
---
awareness through every pore.
The body creates the body responds the body
gives. The human /warmth / quality of highest
living possible all held in the space balanced
between two people.

two people? no-they are making one
-Lily
---
Life
Secure
Heavy
Awareness
CONTACT
-Daman
---
(10/31/99)
Round Robin
Slow press bone to bone sturdy-yum duet with KaroL
becomes lighter and more fluid-icious with Daman

First jam back at Mather (10/3/99) after 3 gorgeous weeks jamming outdoors at Wade Oval-
Me & Karol at first talking details about the web page...Sherri says, "Can we get into our bodies now?"
I'm on the floor and in the floor, dripping and rolling, breathing and sighing, moving eyes closed-muscles, bones, and fluids - moving across inot and out of hard wood beautiful floor and light streams in through the windows and a cool breeze...
& I sense the authentic space of the other movers moving with me and separate and their energies creating this safe and inviting place to be...
We gradually become a 5 or 6-legged creature moving together...aaaahhhh
de-luscious warm-up - We finished with 3 duets - watcher took pictures 'til we realized the camera was broken...oh well coulda' been some great shots...

Fall into Fall reflections: 10/3/99-
New people each week, a few passers by watching, a few watchers who came just to watch...
Arleen and John last week who came to watch and ended up dancing the whole time.
Upside down trees, soft earth, cool, moist and resilient - vibrating as I fall, yielding my weights into her
Warm sun and grassy dirt smells...
The best handstand I've ever done...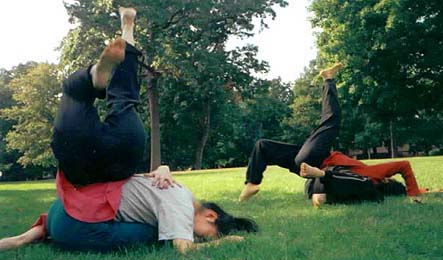 First Fall into Fall Jam-9/12/99
quite a few of us there...Me, Karol, Manju, Chandra, Janet, Betty(who just happened to be in the oval lying on a blanket studying), Amy (who only stayed a little while) and Lily.
And a photographer stopped by for a while a took some photos...
we started with "the small dance" as a warm-up, and moved into letting parts of ourselves fall into gravity or through space & traveling with light contact and brief hello dances. We had a little bit of an audience. We worked on some falling and weight sharing skills, then finished with a round robin.
The whole thing was really fun and very satisfying...looking forward to next week.
Fall into Fall was just wonderful. It was a joy to dance in the grass at Wade Oval. Now that Autumn is upon us, jams will be moving to Mather Dance Center on the CWRU campus. They will be held most Sundays from 3:00 to 5:00 pm. You may wish to call the Jam Information Line to confirm dates, as we cannot always get this space (216.321.7027).
---
We all had a wonderful time at the Contact Improv Workshop conducted by Jennifer Keller at Cleveland State University at the end of May.
Comment by guest writer, KaroL
One of the things I particularly enjoyed about this workshop was learning to use movement while being platform. At 200 pounds, I usually find myself somewhat static on the bottom of any improvisation, providing support. Jennifer helped me to understand how to move into the person whom I was supporting, and be able to contribute to the movement. One moment of pure joy I experienced was when Sarah Morrison "flew" me. Because of my size, it is always a thrill for me to be picked up off the floor. Another particularly delightful moment came when Jennifer and I started on the floor, back to back, and spiraled up into standing position. I could feel our centers of gravity make a beautiful double helix in space as we rose. I'm looking forward to taking Jennifer's "On Common Grounds" class at CSU this summer.